Interactive Experience
LOOKING FOR AN EXCLUSIVE INTERACTIVE EXPERIENCE?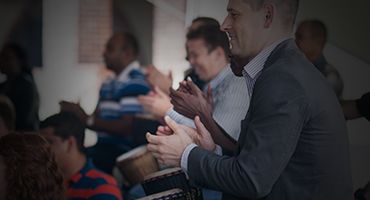 CORPORATE INTERACTIVE SHOW
Suited For:
• Team-Building
• Year-end and Client Functions
• Conferences
• Strategic Sessions
• Training Seminars
• Award Ceremonies
• Launches and Promotions
• And much more
How We Do It:
These participatory performances can last up to an hour, depending on the client's specific needs. Our slogan, Drum as One, hints at our greater purpose, we essentially do team building. The sound of many drums pounding together is a unique way to stir up emotions, inspiring excitement and passion. This is a great way to create unity and harmony amongst team members, between employers and employees, and different departments; everyone joins the Tribe!
What We Offer:
• Team building that is wildly entertaining, but cost and time effective
• 15 minutes to 1 hour performances
• Suited from 10 to 400 people
• From 3 to 6 Performers (including 1 facilitator)
• Full set up and removal of drums